There is nothing more exciting in bass fishing than the topwater strike. Whether it's in open water or in the slop, a topwater blowup will get your heart racing. Here are 9 topwater bass blowups to get you in that fishing mood (if you weren't already).
#1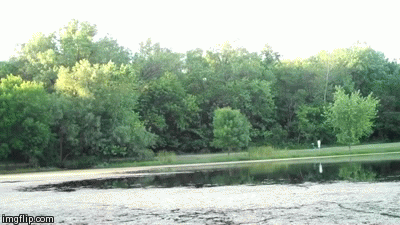 #2 (Buzzbait)

#3 (D&M Custom Baits Super Newt)


#4 (Flip In The Bird Lure)

#5 (River2Sea Whopper Plopper)

#6 (Strike King Rage Tail Toad)

#7

#8 (LIVETARGET Hollow Body Frog)

#9 (D&M Custom Baits Super Newt)

3 Keys To Topwater Fishing
If you want to be a good topwater fisherman there are 3 things you have to know:
#1: Patience
The biggest mistake people make when fishing topwater baits is setting the hook too soon. Make sure you let the fish take the bait, wait 1-2 seconds and THEN set the hook.
#2: Conditions
Although you can probably catch a bass on topwater almost any time, there are certain conditions that are better than others. For example, if bass are schooling shad then go with a topwater popper or walk-the-dog bait. If there is heavy cover use a frog. If it's calm open water try a buzzbait.
#3: Baits
There are TONS of topwater baits on the market and you may feel overwhelmed at the choices. Using a service like Mystery Tackle Box can help you discover new baits every month and expand your confidence. You can even try your first month for $4.99 with code GET499 at checkout. You will get at least $20 in baits and it's free shipping!
How useful was this post?
Click on a star to rate it!
Average rating / 5. Vote count:
We are sorry that this post was not useful for you!
Let us improve this post!
Thanks for your feedback!