When panfish get schooled up around cover or stacked up in the shallows, there are about a trillion billion zillion different ways to catch them. Their limits are higher and their catches are easier. But, panfish aren't always schooled up around cover or stacked up in the shallows. Crankbaits for panfish is one of the many "power fishing" techniques you'll learn are just as killer at filling the cooler.
When bluegills, crappie, perch, or any other panfish are spread out in open water and tougher to catch, you need to take your presentation to the next level. This is where power fishing for panfish comes in, using some tougher techniques to trigger reactionary strikes.
Moving baits like spinnerbaits, crankbaits, and rattling lipless crankbaits are all perfect for these reaction strikes. When panfish are finicky, the key to catching them on these baits is to slow it down. When you chuck and wind a spinner bait or cast and retrieve a lipless crankbait through the strike zone, you are set up perfectly for reaction strikes.
Mix up the cadence on these retrieves, as you are still working on the tweaks to figure out what the fish would want. Rattling baits add some extra power to your technique than the typical crankbaits for panfish in low light or murky water, as the vibrations can annoy a fish into eating your lure. Rip it through grass or just chuck and retrieve your bait through the muddy, murky waters where panfish may be hiding. Target points or structure they may be hiding out in, and wait for them to lunge out and strike.
If you start to miss fish or aren't getting bites despite marking them, try adding a bobber. Tying on a bobber stop to your float allows you to designate a depth, and mix and match until you find their suspended depth. Cast your float with a chatterbait behind it to drag back sloooowly until you receive a bite. Once you get bit, keep the chatterbait or other noisy power presentation at that depth and start to fill the boat! It's almost fish fry time.
Crankbaits For Panfish (And Other Power Lures) Examples:
The Gapen Fish Fry

Slab Daddy by Strike King

Strike King Mini-King Spinner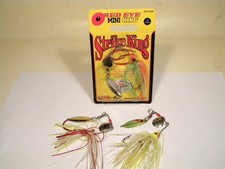 Rat-L-Trap Mini Trap

We are sorry that this post was not useful for you!
Let us improve this post!
Tell us how we can improve this post?